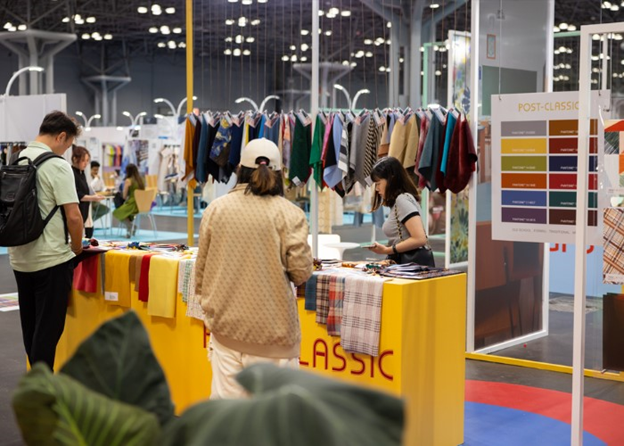 As we head into 2024, Kai Chow, Creative Director of Doneger|TOBE, shares what's influencing consumer spending and what shoppers are looking for now. Plus, he provides a preview of the top trends driving fashion for '25 and beyond.
What's the outlook for consumer discretionary spending in '24?
Currently, many experts predict that consumer discretionary spending will continue to grow in the coming years as the global economy recovers from the COVID-19 pandemic. People will have more disposable income to spend on non-essential goods and services, more on experiences rather than physical goods. The travel and leisure sector, which is a significant component of consumer discretionary spending, includes spending on vacations, dining out and entertainment.
How are consumers thinking about value, quality and versatility, and how does that impact apparel shopping?
Consumers are increasingly considering characteristics like value, quality, and versatility when making purchasing decisions. These factors have a significant impact on apparel shopping in particular.
Consumers want to ensure that they are getting the most for their money, looking for products that offer a good balance between price and quality. They are willing to invest in higher-quality garments that are made to last longer and better craftsmanship, materials and attention to detail. Consumers are increasingly seeking versatile clothing options that can be worn in multiple settings or styled in different ways. They value garments that can be easily dressed up or down, allowing them to create various outfits with fewer pieces.
During the pandemic consumers were focused on comfort. Where does comfort rank in their buying decisions now?
Comfort and athletic-inspired clothing for everyday wear has been popular for several years and is expected to continue. The minimalist trend, which focuses on simple, versatile pieces that can be mixed and matched, is expected to continue. This trend aligns with the growing consumer preference for slow fashion over fast fashion, quality over quantity.
What role is social media playing in trends, trend adoption and the speed of the trend cycle?
Social media platforms have become key places for trendsetters, influencers and fashion brands to showcase new styles and ideas. It also democratized fashion by giving everyone a platform to share their style and influence trends. It's not just celebrities and fashion designers setting trends anymore; everyday individuals can and do influence fashion. It allows trends to spread quickly and globally. It has accelerated the speed at which trends come and go. A style can become popular overnight and fade just as quickly when the next trend arrives.
What do designers need to understand about consumers' social media usage?
From different platform preferences and influencer impact to consumers' real-time feedback and shopping habits.
To what degree does sustainability play into consumers' shopping decisions? Which sustainability buzzwords/terms are they most responsive to today?
Sustainability is increasingly playing a significant role in consumers' shopping decisions. A growing number of consumers are becoming more environmentally conscious and are actively seeking out brands that align with their values. They are willing to pay more for products that are sustainably produced and have a lower environmental impact.
The buzzwords/terms that consumers are responsive to today are: Ethically. Organic. Recycled. Upcycled. Zero Waste. Carbon Neutral. Fair Trade. Plant base. Eco-friendly. Transparent.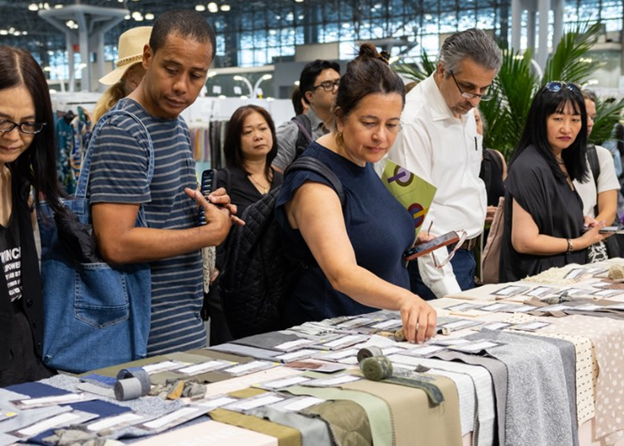 Trends: Here to Stay
Kai shares the current trends that will continue forward into next season and beyond.
Slow fashion — athleisure and functional, basic and comfortable, quality over quantity
Sustainability — environmentally conscious
Vintage — second-hand, recycle and upcycle
Denim — stylish, recycle, big jean skirt
Leather — real or pleather
Tailoring — oversized blazer jackets / wide leg pants
Crafted — handmade, one-of, cultural
Light & fluid — romantic sheer, fluid, ruffle and tiers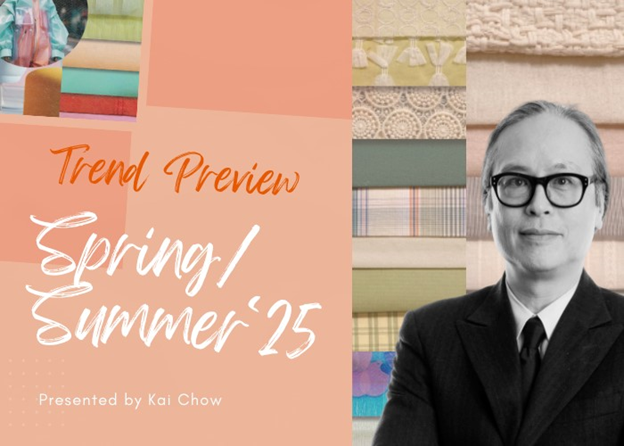 Trends: What's Next
Below Kai provides a preview of the trends Doneger|TOBE will detail at the January Texworld NYC show.
SOLACE
This state of mind is reflected in particularly comfortable garments with a focus on the cuts and the quality of the materials. The trend is relaxed, gender-fluid, and minimalist. Soft and well-crafted details that will give the style a more sophisticated aura. Elaborated blends of natural cotton, wool, linen or hemp, recycled Pes, Econyl, Tencel.
FRAGRANCE
Celebrates the cultural significance of nature, and more specifically of flowers, to express joy, love, remembrance, and romance due to their everlasting impact on creativity. This trend offers the opportunity to develop new skills that straddle the boundaries of science and design, creativity and engineering, sustainability, and innovation. Blending artificial and natural. The reimagining of craft in a technological age.
AMUSE
Prioritizing life's simple pleasures as well as the need to release the pressure of everyday life while finding creative ecological solutions. We are looking for a way to enjoy the simple things and have fun, almost childish mood. It's a gourmet lifestyle with a design aesthetic and a playful accent. Complementing elevated pieces with more relaxed styles. Colorful and functional.
PROSPECTIVE
Artificial intelligence is becoming more widespread in various aspects of the fashion industry, with futuristic, imaginative, and illusionistic elements. This trend is full of creative combinations in which past and future, East and West merge. It sees us into the future—a future of strong contrasting colors, dazzling combinations, and unparalleled freedom. Imaginative and boundless. Industrial finishes and elaborate crafted. New age.
Register here to experience the trend showcase for Spring/Summer'25 in- person on January 22-24 at the Javits Center, NYC.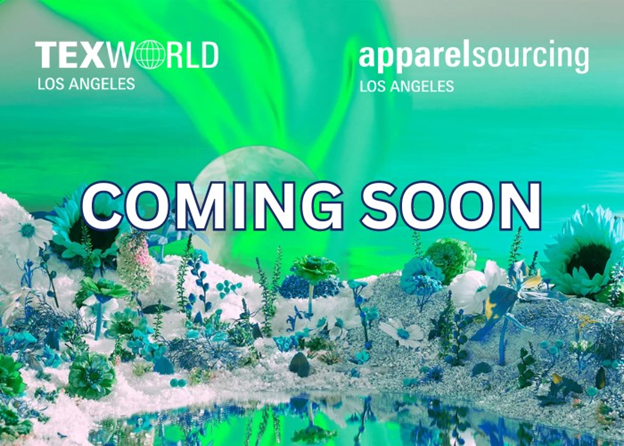 Mark Your Calendar: Texworld Los Angeles August 13-14, 2024
Once again, the largest sourcing event on the East Coast is headed west to the California Market Center. Join us in August for the second edition of Texworld Los Angeles & Apparel Sourcing Los Angeles.
Texworld Los Angeles will welcome buyers on the West Coast to shop our strong slate of international textile manufacturers and suppliers, offering a wide range of materials, including sustainable textiles, functional fabrics, sophisticated knits and intricate lace, along with findings, trims and accessories. Texworld Los Angeles will be co-located with Sourcing Los Angeles, where buyers can find finished apparel, contract manufacturing, and private-label development across ready-to-wear for men, women, children and accessories.
Click here to save the date for another successful West Coast Edition.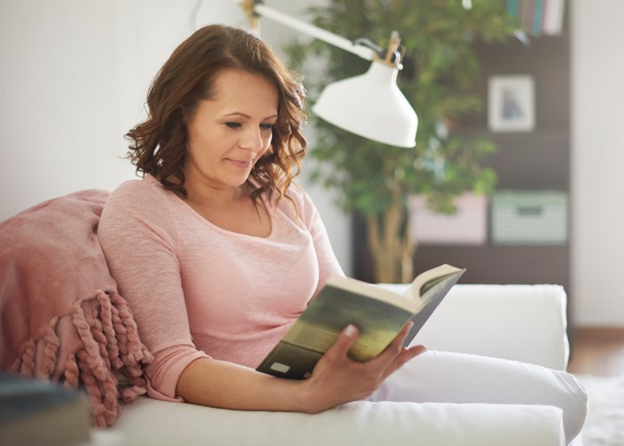 What We're Reading
Can the Fashion Industry Close the Gap in Sustainable Raw Materials?
Prepare for a big boost in demand for preferred materials. That's the message from a new report from consultancy BCG, Textile Exchange and Quantis. Thanks in large part to the avalanche of pending ESG-related legislation, the report finds the industry could face a "major shortfall" in greener raw materials by 2030. Greenbiz reports that fashion brands must put plans in place now to lock in the materials they'll need. For those that do, BCG said there's a £100 million opportunity. Read the article to learn how to end up on the winning side of this equation.
4 African Nations Lose Trade Benefits in AGOA Shock
U.S. officials are currently working to determine whether the Africa Growth and Opportunity Act (AGOA) will continue on beyond 2025. In the meantime, the Biden administration announced that Gabon, Niger, The Central African Republic and Uganda will stop receiving AGOA benefits as of January 1, while it reinstated Mauritania, according to a report in Sourcing Journal. Read the article to learn why the four nations lost their trade benefits and the likelihood that AGOA will be renewed.
The Other Side of Apparel Sustainability— Ethics in Worker Treatment
The entire apparel industry is focused on ESG today with the primary concern typically being the environment. Equally important is the social component, specifically how workers along the supply chain are treated. California Apparel News surveyed industry insiders about the most pressing labor-related issues and how the industry is addressing them. Executives from companies including Remake, Officina39, Unifi and Fashion Impact Fund weigh in on issues related to job security, training, safety, wages and working conditions. Read the article to learn what fashion's doing, and what it needs to do next.