September 19, 2023
There's almost no corner of the apparel industry that artificial intelligence couldn't potentially augment but the questions are when and to what degree.
Global consulting firm McKinsey & Company has said the timing may be sooner than you think and the scope of impact could be massive. "In the next three to five years, generative AI could add $150 billion, conservatively, and up to $275 billion to the apparel, fashion, and luxury sectors' operating profits," the company's research has found.

Ultimately, an AI-empowered fashion industry will be positioned to achieve smarter decision making, faster workflows and better outcomes. Here is a snapshot of just a few ways this technology can transform apparel.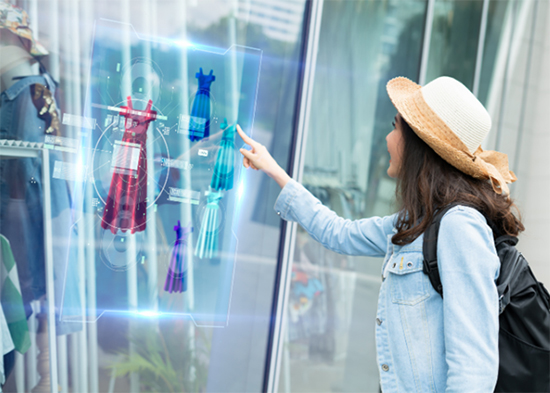 Inventory management
Stock levels across the apparel landscape are too high—once again. While dampened consumer demand isn't helping, retailers are also weighed down by safety stock in their attempt to avoid stockouts once shoppers do return. This seesaw between too much and too little is nothing new. The industry has struggled with inventory management for decades—long before the pandemic came along and threw things even more out of whack.
AI promises to help stores right size their inventories by enabling them to forecast demand more accurately. By crunching massive data sets around what's selling, what's trending and what's slowing down, AI can inform upstream operations, allowing fashion firms to make better bets on inventory and smarter moves when it comes to allocation.

"History is no prediction of the future," Paul Magel, president of the business applications divisions at CGS, told Sourcing Journal. "But if you've got tools that can scour the Internet, see what's selling across multiple platforms and multiple shopping carts and understand demand in a real-time basis…[you can ask] what can I deliver in the next six days to maximize the profitability of what we're trying to accomplish and capture that demand in real time?"

Design
Not only does AI promise better sell-throughs, it also has the potential for lightening the load on design teams. While the technology is still evolving, the promise is that soon AI will be able to synthesize inspiration, generate moodboards, create iterations of past best sellers and prototype new designs—all at a fraction of the time it would take the typical design team. Already, software like CALA and MidJourney AI exist to help novices transform both text and image inputs into new designs.

Once these tools evolve, the result will be more winners more often and in less time.

Brandon Ginsberg, CEO at ERP solutions provider ApparelMagic, said this will have a significant impact on the market.

"With AI algorithms predicting trends and analyzing customer preferences, fashion businesses can create designs that are more likely to be popular with their target market and reduce the risk of producing designs that don't sell," he said in Forbes.

A major benefit to delivering more of what shoppers want is less waste. By reducing the number of sample rounds needed and shrinking the amount of clothing that goes unsold and unworn, AI can also help fashion achieve its sustainability goals.

Fit

E-commerce apparel and footwear sales are expected to hit $155.8 billion this year, but the current return rate is 24.4 percent, according to Coresight Research. This is a major—read: costly—headache for the industry. And the leading cause of returns are fit and size, with bracketing as a major symptom of the issue. When shoppers order multiple sizes of a garment with the intention of returning the ones that don't look good on them, it only adds to the reverse logistics strain. Already the industry is using AI to curb this behavior.
Companies like 3D Look use AI to provide virtual fitting room tools that offer photorealistic versions of consumers in their desired looks. Similarly, Bold Metrics pairs shoppers with the correct fit by employing an AI algorithm to marry product information with customer data.

Not only can these solutions help shoppers nail their fit the first time, it also has value farther upstream, according to Jason Wang, COO of product development consulting firm Alvanon. Wang told Apparel News the data these tools amass can provide "important feedback to the product-development teams. This feedback loop will allow for better decision-making for product and sizing mix or even uncover business opportunities for new sizing ranges that were previously ignored."

Social Compliance

Moving even further upstream, AI is now being leveraged to fight against forced labor in the supply chain.
In the year since the U.S. created the Uyghur Forced Labor Prevention Act to restrict goods from Xinjiang from entering the country, U.S. Customs and Border Protection (CBP) has detained goods worth in excess of $1.7 billion. But the flow of products from the suspected forced labor region continues. Earlier this month, Reuters reported that nearly 27 percent of the shoes and garments the CBP tested in May showed links to cotton from there.

To help stamp out forced labor for good, the CBP is leaning into the Altana Atlas, an AI-driven platform, which is essentially a dynamic supply chain map that pulls public and private data to show product origins and supplier networks. These learnings could also enable brands and retailers to identify social compliance problems earlier, according to Suzanne Richer, director of global trade compliance at supply chain solutions company E2Open.

"This visibility may allow the Bureau of Industry and Security (BIS) to list the names of forced labor violators on future entity screening lists published on the BIS website. Additional detection of shell companies and layered ownership relationships may enhance CBP's ability to share information with the public, enabling US importers to more easily identify when to restructure their supply chain partners," she said.
Copycat protection
Knockoffs are a regular occurrence in fashion, as are the lawsuits that often follow. One of the most recent cases to garner headlines is the one against Shein, alleging the retailer engages in racketeering by working with a cabal of companies built to copy others' designs.

Now, consulting firm Deloitte is helping companies fight back. Deloitte's Dupe Killer leverages AI to identify knockoffs across the web. Whether it's a full garment or a single product attribute, the software identifies the imitation goods and pinpoints where they're selling—providing the originators with the opportunity to shut down those operations. Dupe Killer is purported to find the equivalent of approximately a dozen copies per hour.

Whether it's up or down stream, applied correctly, AI can help the apparel industry unlock two major attributes it needs to persevere in the face of uncertainty: speed and accuracy.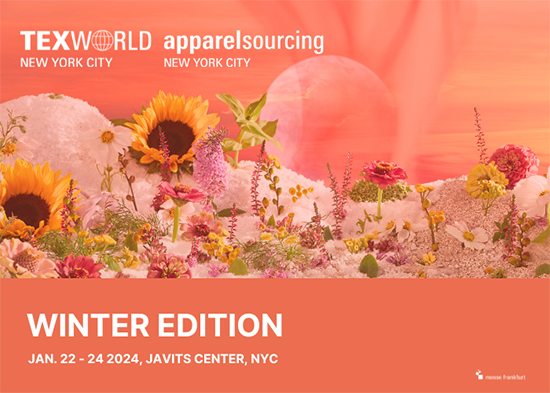 Save The Date
Click here to mark your calendars for the largest sourcing event on the East Coast. Texworld NYC and Apparel Sourcing NYC will be taking place January 22 - 24 at the Javits Convention Center in New York City. We are calling all industry professionals to join us for 3 full days of sourcing and networking. You don't want to miss this!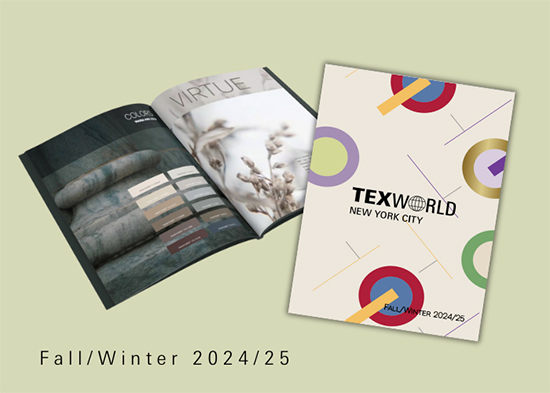 Trend Highlight
Our digital trend book is live on our website! If you haven't already, be sure to check out the amazing trends and colors for Fall/Winter 24/25 curated by Doneger|TOBE. 

Physical copies of the new trend book for Spring/Summer 2025 will be available at the Winter 2024 Edition. Remember to grab one at the show!

Click here to view the trend book.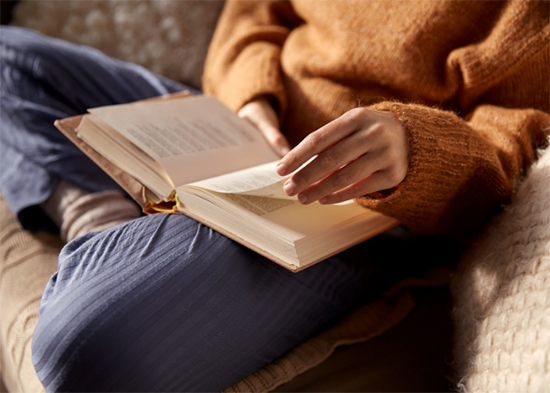 What We're Reading:
Who will pay to decarbonize the supply chain?
The price tag for achieving net zero emissions is coming due. Supply Chain Dive investigates where the burden will fall for achieving scope 3 greenhouse gas reductions ahead of the 2030 deadline. In some cases, it seems downstream players are investing in their supply chain partners. In others, however, suppliers feel that they're simply receiving mandates but no assistance let alone incentives. Read the article to learn how suppliers are dealing with "comply or die" attitudes.
Start-ups are inventing cooling clothes for a hotter future
As the planet heats up, traditional fabrics are no longer enough, especially for anyone who works outside. The warming temps have sparked a slate of new technology designed to preserve health and productivity. The Detroit News reports on new clothing that feature cooling collars, biometrics sensors, reflective fabrics and more. Unfortunately for now, the cost of many of these inventions are having a chilling effect on adoption. Read the article to learn how these innovations work and which have the most promise.
Fashion and luxury supply chain rejig
Inflation has had cost of goods racing ever higher while consumer spending dipped decidedly in the other direction. The result has been skinnier margins—but for how much longer? Fashion United asks what fashion companies will do if the current slight decrease in COGS is sustained: push up prices or hold steady in hopes of volume gains. It's just one of many questions on the table as political instability pushes diversification and sustainability regulations necessitate material innovation. Read the article to learn how companies are making critical decisions today.