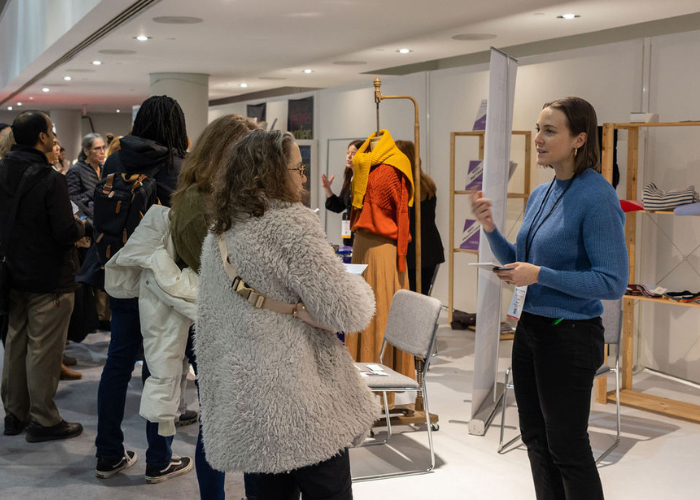 July 13, 2023
New research shows that consumers are ready to make the leap to fashion items with reduced environmental impact but these pieces have to be available, marketed clearly and credibly, and priced reasonably. That's important food for thought as you make your buying decisions at the upcoming Texworld New York (July 18-20) and Texworld Los Angeles (July 25-26) shows. 
A Shopkick survey of 10,000 U.S. shoppers found that consumers are hungry for sustainable options. More than 80 percent of respondents want brands to provide more sustainable products. Further, 40 percent of those polled say they purchase more sustainable goods today than they did last year—and they intended to continue to do so.
Price, of course, remains a consideration for most—and for some, it's an absolute barrier blocking them from acting on their values. Just over half of the respondents in Blue Yonder's Sustainability Survey of 1,000 U.S. shoppers say price drives their purchasing decisions when it comes to sustainable products. 
That said, 7 out of 10 shoppers in that survey expressed a willingness to pay more for sustainable items. The downside is that, in most cases, they're only willing to absorb a small uptick. Think 5 percent. In fact, only 4 percent of those surveyed would be ok with a 20 percent differential for sustainable goods. That doesn't give brands and manufacturers much wiggle room. 
It's worth noting that greenwashing seems to have made the shopping public a bit cynical. Blue Yonder found that 56 percent of respondents were indifferent to or potentially untrusting of companies' environmentally friendly production claims. This dovetails with findings from Centric Software's Centric Pricing report, which found that goods that carry a sustainability certification had better sell-throughs than those that did not—including products that make no claims and those that carry vague ESG messaging. 
"For the consumers who believe that certified products that are actually sustainable is really important to their philosophy of life, how they spend their money, how they think about their purchases,... they're willing to pay for that," Jade Huang, vice president of Style Sage at Centric Software told the audience at Sourcing Journal's Sustainability Summit in May.
This represents an opportunity for those brands that can credibly align with recognizable organizations that endorse their products and/or processes. However, Centric's data shows not many are positioned to do so. Currently 12 percent of fashion items on the market in the U.S., U.K. and Germany tout some form of general sustainability claim, while only .5 percent boast messages that are certified by a recognized organization.
Ultimately, winning consumers over will come down to transparency and education, which will allow them to understand and trust what brands and retailers tell them about their products. The Apparel Consumer Behavior and Circular Economy paper published in December noted, "Consumers have limited knowledge of what materials are more environmentally friendly, how apparel is manufactured and its associated impact on the environment." 
To that end, the UNEP and UNFCCC have joined forces to produce The Sustainable Fashion Communication Playbook, which endeavors to help the industry align its words and actions to the 1.5-degree climate target goal. And the first tier of the plan is to figure out how to communicate technical sustainability information to the public in clear, digestible and verifiable ways.
"Businesses need to advise consumers and give them guidance on how to make better decisions," Euromonitor International's An Hodgson, head of consumer research, said in Cotton Incorporated's Lifestyle Monitor. "So, communicate with shoppers, align with their values but also educate them to help them make better purchasing decisions and buy better. And in order to make that bond with consumers, it is totally relevant to think ahead in terms of how consumers will evolve over time. Understand that forces such as emdographics, economics and changing values all interact and drive consumers changes along the way."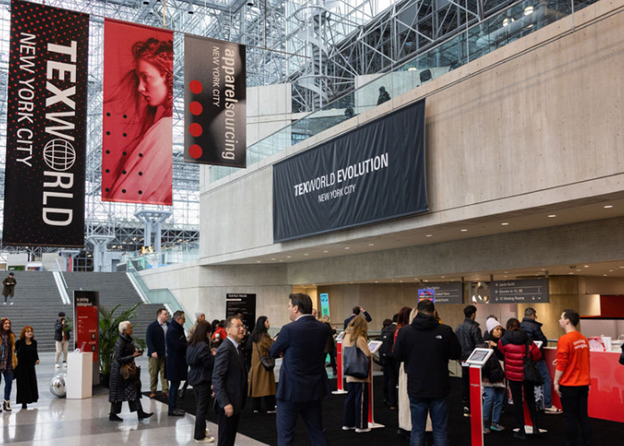 Join us at Texworld NYC & Apparel Sourcing NYC
July 18 - 20, 2023
Javits Center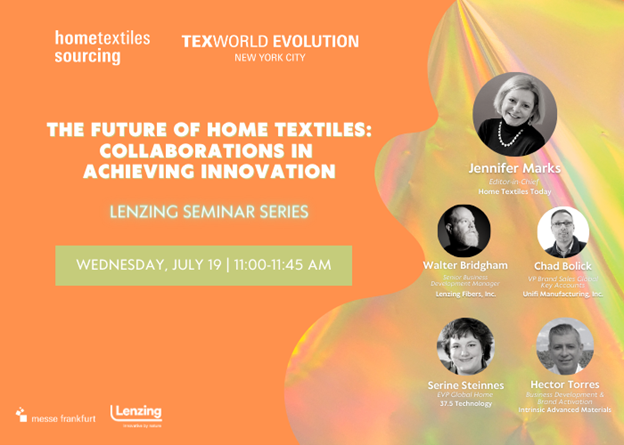 The Future of Home Textiles: Collaborations in Achieving Innovation Panel
The word "sustainability" is buzzing around the home textile industry. This Lenzing Seminar Series panel will explore material innovation, applications and a few collaborative partnerships that are leading the way towards a more sustainable home. From exciting developments between blending partners to new applications and technology, moderator Jennifer Marks, editor in chief of Home Textiles Today, will lead a panel of industry insiders in a discussion about how and why sustainability is here to stay across the home segment. Join us on Wednesday, July 19 from 11-11:45 am.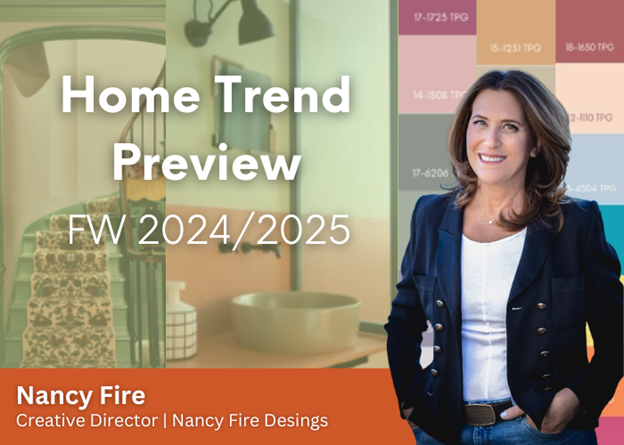 Nancy Fire Designs Fall/Winter 24/25 Home Trend Presentation + Explore the Floor Trendspotting Tour 
Join Nancy Fire, creative director for Nancy Fire Designs, on Tuesday, July 18 from 12:30-1:15 pm as she presents trend concepts for FW '24/'25. As the former design director for HGTV home and an integral force behind the Food Network's product line at Kohl's, Nancy is a respected designer who brings her keen eye to interior design. Nancy will lead the presentation through a creative and curated journey, including updated color, pattern and materials. Attendees will also have the opportunity to take her guided Home Trendspotting tour of four curated vignettes in the Home Trend Showcases.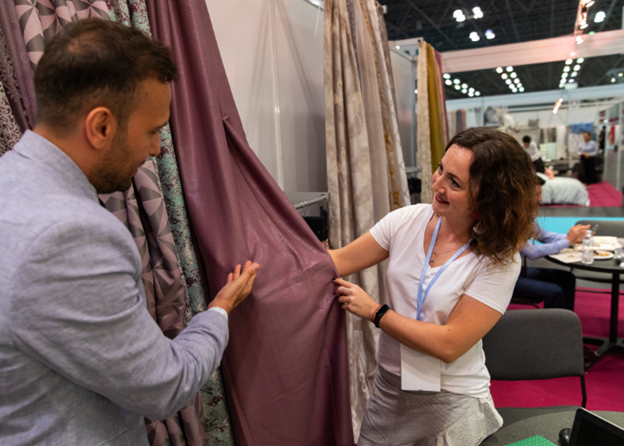 Home Textiles Sourcing: India Pavilion
The summer edition of Home Textiles Sourcing will feature a pavilion showcasing handcrafted home soft goods from India. The curated selection of exhibitors from India's Handloom Export Promotion Council (HEPC) will feature a full range of hand tufted, flat weave, hand woven and shaggy area rugs, floor mats, bath mats, throws and more. Earmark time to explore the pavilion and discover the possibilities and advantages of sourcing in India. Exhibitors will include:

| | | |
| --- | --- | --- |
| Abina Export- E70 | DK Enterprises – E63 | Hari International – E65 |
| Abinaa Textiles – E70a | Eco Tasar Silky Pvt Ltd – E67 | Hombella – E68 |
| Bhajana Home Décor – D64 | Ess Kay Enterprises – E64 | Sri Ashwini International – E68a |
| Craftex India- E69 | Gupta Creations – D68 | Amrapali Images - D70Amrapali Images - D70 |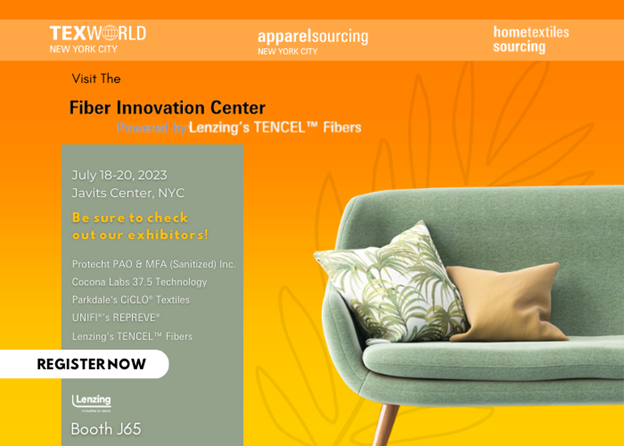 What's Next: Fiber Innovation Center
Material innovation is key to moving the soft goods market forward. Today's shopper expects their purchases to look good, feel great and last longer. Plus, the mandate from every arena—consumers, legislators and stakeholders—is environmentally responsible processes and products. The Fiber Innovation Center at Home Textile Sourcing 2023 will showcase performance fibers and sustainable options that can help you check all of these boxes—and then some. See below for a preview of what you can expect:
Don't miss Lenzing's suite of products made from renewable sources and processed with unique resource-conserving technologies. The company's solutions include TENCEL™ Lyocell fibers, which are extracted from sustainably grown wood using a unique closed loop system, producing a high tenacity profile, efficient moisture management and gentleness to skin. TENCEL™ Modal fibers, extracted from naturally grown beech wood in a pulp-to-fiber process, are renowned for their exceptional softness. TENCEL™ Lyocell x REFIBRA™ technology involves upcycling cotton scraps from garment production, transforming them into cotton pulp that is added to wood pulp to create new virgin TENCEL™ Lyocell fibers.
Stop by the UNIFI booth to experience the company's latest performance fibers, including Chillsense™ fiber with instant cool to the touch properties; Sorbtek, which promises consumers will stay cool, dry and comfortable; and REPREVE® Our Ocean™, a fiber made from recycled ocean-bound plastic bottles.
Learn how CiCLO® is going about reducing the persistence of microfiber pollution in the environment by offering an additive that is combined with polyester and nylon at the beginning of the fiber-making process. The CiCLO® additive creates biodegradable spots in the matrix of the plastic, where microbes that naturally exist in certain environments can break down the materials just like they do with natural fibers.
Visit Cocona Labs and discover its 37.5 Technology, which is proven to help the body maintain an optimal temperature and relative humidity next to the skin, using patented technology that employs natural volcanic minerals permanently incorporated into fabrics, insulations, foams, and laminate materials.
Explore the possibilities of the ProTecht portfolio of functional finish technologies that offer USDA certified plant based, non-biocidal odor control. The company will feature ProTecht PAO™, an odor adsorption technology derived from the castor seed, and ProTecht™ MFA, a metal-free, antimicrobial technology that provides durable performance and protects against a wide range of microorganisms.
What We're Reading
PVH launches supplier finance program tied to sustainability goals
Supply Chain Dive reports on PVH's new facility that provides suppliers with preferential financing if they align with the company's environmental and social metrics. The move could be an attempt for the company, which offers brands like Tommy Hilfiger and Calvin Klien, to redouble its sustainability efforts, which garnered low scores from environmental advocacy group ​​Stand.earth. Read more about how incentives like these work here. 
HanesBrands sustainability boss on mission to lead greener industry
Hanesbrands is attempting to get out ahead of looming environmental legislation. The company, which owns two thirds of its supply chain, recently mapped the supply chain for more than 20 key products, taking consumers back to the raw materials suppliers. The company told Just Style it is working to get all suppliers on the Higg FEM tool in an effort to ensure it hits all greenhouse gas emissions goals, including a 30 percent reduction in scope 3. Learn how Hanesbrands is dealing with hurdles along the way, including those related to increasing its use of sustainable materials.
Inside the Global Fashion Summit: The impact of the EU's regulation on fashion goods
Data was a major point of conversation at last month's Global Fashion Summit, according to Glossy. The focus is a result of the potential new regulations that will require the fashion industry to report on factors like products produced, raw materials used and waste disposal. The Summit also identified the confusion that many in the industry have over which bits of legislation apply to them. For example, Denmark-based Ganni is tracking 40 pieces of regulations in the EU alone. Find out how brands are sifting through the regulations and how they propose to underwrite the tech needed to comply.